HOW DOES LOGISMARKET WORK?
Shopping online with us is fast, easy and secure. Buy our products in three simple steps: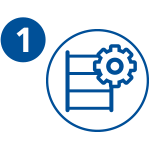 SELECT THE PRODUCT
ADD TO CART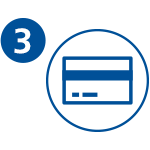 INTRODUCE SHIPPING AND PAYMENT INFO

SEARCH ENGINES
To find the product you need, use the search menu or enter the product type into the search engine. Both options appear at the top of this section. If you already know the product you specifically want, feel free to use the advanced search engine at the bottom of the page.
For assistance, call and our customer service specialists will help you choose the products that best suits your storage needs.

FILTERS AND LISTS
When you select a product category in the search engine menu a list of all that product's variations and accessories will appear on screen, including a picture and a brief description.
It is possible to filter search results within the shelving categories with a series of options within the left hand search column, allowing you to refine search parameters.

CONFIGURATION
Many of our products are shown in different sizes and finishes. In these cases, all the possible options are prominently displayed on the product tab. Simply select those you are most interested in on the drop-down window and continue shopping. Each product tab includes a complete description and any relevant technical specifications.
If you need a customized solution, please give our technical team a call at.

ADD TO CART
Add all the products you need to your shopping cart by clicking on the "Add to Cart" button, which you will find next to each product.
To view, check, or change any item in your order, click on the shopping cart icon in the upper right hand corner of your screen.

SHIPPING COSTS
To calculate shipping costs just follow the link "Calculate Shipping Costs" below the price listed on each product tab and enter your zip code.
If you want to save on shipping costs, we also offer direct warehouse pickup in Birmingham.

PROCEED TO CHECKOUT
To complete your purchase, go to your shopping cart, make sure that the product info is correct and click on "Proceed to Checkout."
If you are a registered user, you will only have to enter your email address, password and confirm your order. To continue as a guest user, you will be asked to provide your shipping and payment info.
3
INTRODUCE SHIPPING AND PAYMENT INFO

BILLING & SHIPPING INFO
Please indicate your billing info. If it matches the shipping address, select the corresponding checkbox at the end of the form, to not have to re-enter data.
If you want to receive your order at another address, fill out the applicable form.

SHIPPING METHOD
Logismarket offers different regular and rush-delivery shipping methods, as well as the possibility of personally picking up your order in some of our warehouses (click Where are we?to view addresses).
Choose the option that best suits your needs.

PAYMENT METHOD
Make your purchase via a secure platform by: credit card, PayPal, electronic bank transfer, traditional bank transfer or POD (payment on delivery).
Once you have chosen the payment method, click the button at the bottom of the page to confirm your order.